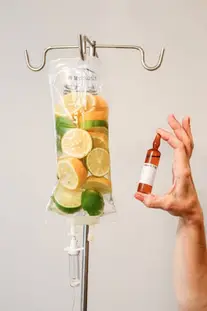 Making sure you are in tip top shape on a regular basis can definitely help you get into the right mindset for any day. With IV Therapy we can help you recover from a simple hangover to getting you energized for the rest of your day.

Some things IV Therapy Can Help with Include:
Dehydration
Hangover Cure
Migraines
Gastrointestinal Conditions
Immune Health
Energy Booster
Mental Health Boost
Acne
Anti-aging
Weight Loss
High Vitamin C
And so much more!
Another popular use of intravenous therapy is to deliver nutrients, vitamins, minerals, and supplements to help boost the immune system, increase energy levels, and help people feel better. This type of IV therapy is increasingly being used to treat chronic fatigue syndrome and fibromyalgia.
An example of this type of IV solution is known as the Myers' cocktail. It contains magnesium, vitamin C, calcium, and B vitamins. It is understood that this type of IV therapy provides faster and better absorption of the nutrients than taking the nutrients in pill form.
Intravenous therapy is beneficial for people who have difficulty swallowing medication in pill form, people who are incapacitated, or dealing with nausea. IV therapy allows for faster treatment with less expense because there is typically no hospital stay involved. IV therapy is typically delivered in an outpatient setting.
Intravenous therapy is an important way to deliver medications, fluids, nutrients, and other liquids to keep your body functioning well. IV therapy is of great benefit to people suffering from acute or chronic illnesses and people who want to feel their best.
Book an appointment today or walk on in to get your treatment started!
Starting price is only $150! No matter what you want, it is only $150. If you get a checkup its only $75!